2013-05-09 00:02:11
NBA notebook: Karl thanked everyone from his middle school coach who got him into the game to his good friend, the late Rick Majerus.
2013-04-30 10:44:44
By J. Brady McCollough
The first male player in a major U.S. team sport comes out of the closet, but will that change the athletic world's climate of machismo?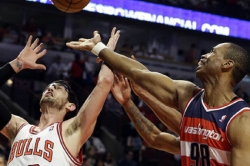 2013-04-29 12:10:13
Collins wrote a first-person account posted today on Sports Illustrated's website.