Towels at half mast.
February 27, 2007
February 27, 2008 12:15 PM
Share with others: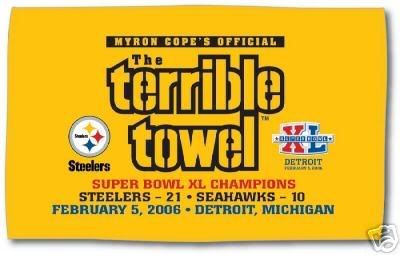 Thanks, Myron. We miss you already.
The forum we're running to share your memories of the man was absolutely innundated, so much so that we've added our last batch and have moved new posts over to this site.
My dad once told me that the measure of a successful life was how many of the people you touched during life take the time to remember you when you're gone. Based on this outpouring, Myron Cope was as successful a man as there could be.
Thank you all for sending these; I've been reading them all day and they've brought many a smail and chuckle, if not a dampened eye or lumpy throat.
A quick personal anecdote: A couple of years ago when I toiled in the Post-Gazette's suburban operations, I penned a piece for our Saturday editorial page expressing my disappointment at the Steelers loss to New England in the 2004-05 AFC Championship game (which was likely tainted, but that's another story).
Anyway, I got a great amount of response from the piece, but one in particular was among the greatest thrills I've received in my career to date: a hand written letter from Myron Cope complimenting my work. Hand written! On his own stationary!
I had never met Myron in any capacity, so I never got a chance to thank him. But needless to say the letter is in a glass display in my game room, atop a Terrible Towel and next to the Rolling Rock cans that commemerated Cope's career.
So that's my Myron story. He was a gentleman and a jester. -- Dan Gigler
The PG's Chuck Finder dug up a bunch of great Cope pieces from our archives:
• Chico Harlan's excellent Myron Cope takeout, the last major piece written on the man, circa SB XL.
• Myron's in-game retirement celebration, by Bob Dvorchak, and Dvorchak's paean to Cope upon retirement, and Smizik's nice column from Cope's retirement press conference.
• Myron's favorite Three Rivers Stadium memories.
• Cope on the 30th anniversary of the Immaculate Reception.
• Smizik on Cope's first book, about him as a great (written) wordsmith.
• This bit of YouTube greatness that ESPN captured:
• This site is the foremost authority on the web for Myron soundbites.
• Vote for your favorite Cope catchphrase.
Reactions from the blogosphere...
• Steeler Fury: Farewell Cope
• Mondesi: "We'll miss you, Myron."
• Just Sayin': Myron Cope Dead. Long live Myron Cope
• Doubt About It: The Passing of Legend
• Joey Porter's Pit Bulls: Rest in Peace
• One For the Other Thumb: One in a Million
• PSAMP: RIP